Quick Start Guide
Selected Speaker Brand:
Sennheiser
Selected Speaker Model:
Ambeo Soundbar
Setup
Adjustment feature
Setting
1
AV Receiver / Processor:

Recommended Speaker/Subwoofer Crossover Frequency (Hz)
80 Hz
2
Stereo Pre-Amplifier or Receiver:
Recommended Low Pass Filter Frequency Setting (Hz)
80 Hz
Recommended Low Pass Filter Slope (dB/octave)
24 dB/octave
Setup Options
Setup #1: Connection to A/V Receiver
In this application, the A/V receiver (AVR) will be performing digital bass management. The AVR will manage and direct the bass in the speaker channels and in the LFE (.1) channel to your SVS subwoofer. Below are the recommended steps to ensure proper set-up and performance from your selected loudspeakers and SVS subwoofer.
Setup #2: 2-Channel Application
In this application, the loudspeakers and subwoofer will be connected to a 2-channel stereo pre-amplifier (not an AVR). Many 2-channel enthusiasts prefer to operate the loudspeakers over their full bandwidth, and only want to use the subwoofer below the natural bass roll-off frequency limits of the loudspeaker. Below are the recommended steps to ensure proper set-up and performance from your loudspeakers and SVS subwoofer:
Adjusting the Low Pass Filter on Your SVS Subwoofer:
From the SVS Subwoofer Control App: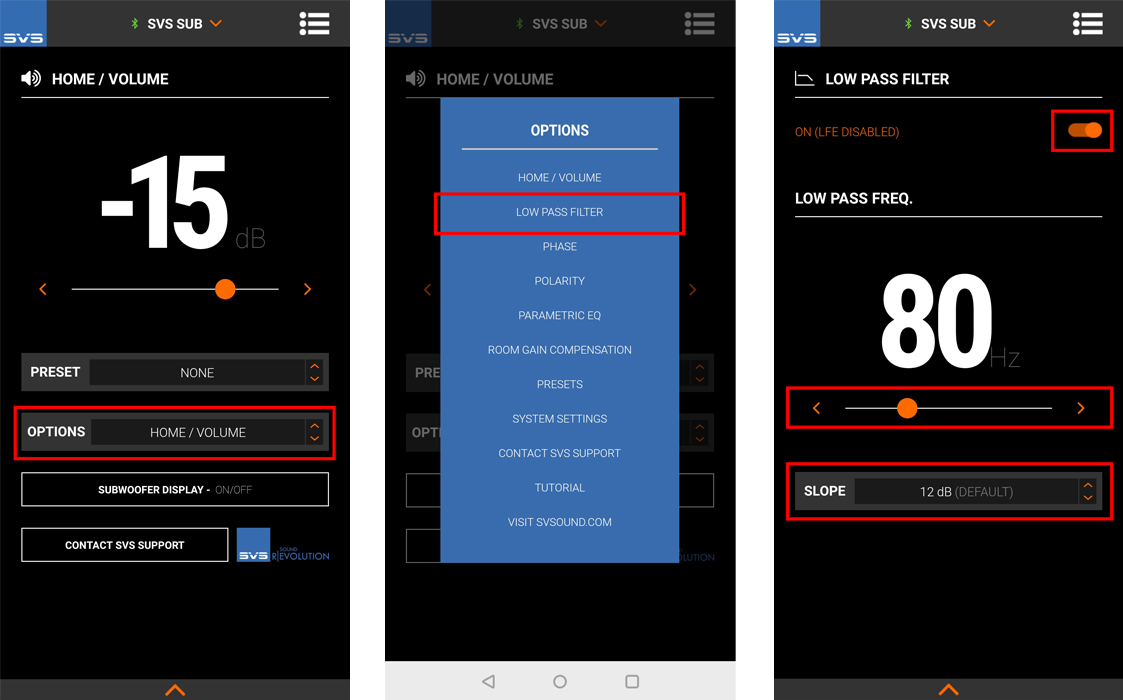 From the rear panel controls: